In compliance with the applicable law, we prepare the land cadastre elaborates on boundary settlement, land levelling, plot division, land consolidation as well as take care of registration of buildings in the building cadastre.
We arrange the registration of changes at the Surveying and Mapping Authority of the Republic of Slovenia, all in order to optimize the real estate tax burdens.  
We cooperate on a regular basis with designers and real estate managers, which is why we are familiar with their expectations. We have modern technical and program equipment at our disposal. We apply advanced expert methods of work during land surveys, which provide us with quick, qualitative and reliable execution of services.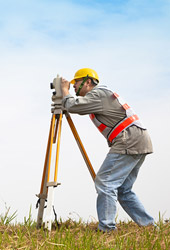 Land cadastre
Plot division, border settlement, land consolidation, building registration, change of intended use.
Building cadastre and RE cadastre
Preparation of elaborates for the first cadastre registration as a base for condominium ownership.
Collective cadastre of public infrastructure
Measurement and inventory of all sorts of infrastructure, both public and private.
Plot boundary marking
Replacement of boundary markers in the field that lost their track or got relocated due to different reasons.
Land survey plan
Map of the actual situation in the field as a base for documentation preparation.
Stakeout
A stakeout for positon, height and protection of marked points prior to the construction.
Survey measurements
Detection of dislodging, subsidence and sliding of built and natural structures
Other land survey services
3D models, visualizations, detailed measurements of facades and rooftops, etc.